January 25, 2020
Review by Bryan Fitzmartin
For the previous list, a lineup of great home theater receivers was presented that produce and deliver superior surround sound quality. Those surround sound units had amazing features such as Dolby Atmos and DTS:X, as well as room calibration and 4K high-definition pass-through. There were great recommendations for anyone considering a home theater upgrade, or for those just starting out with surround sound. However, while those receivers were fine units, they tended to be on the "low end" of the spectrum both in terms of features, and in terms of pricing. This list is different – while it showcases great home theater receivers, it features those in the upper "mid-range" level as well as those in the "high-end" of the spectrum. For this list, we did not include units simply because they were expensive alone, in fact it's the opposite. We've showcased home theater receivers whose features alone put them in "high end" range of surround sound receivers, but in fact it's the case that many of them are quite competitively priced, in fact some units made this list specifically because they were both "featured packed" and in fact included so many high quality elements that there was no choice but to classify them as being in the "upper range" (no matter what their price was), but also offered a competitive price. So if someone is looking for an absolutely amazing home theater receiver that's also a bargain – this list is specifically for them. That being said, let's get right to the list:
Pioneer VSX-LX104:
This high-end receiver seems to have it all, it absolutely includes both Dolby Atmos and DTS:X. What's also very important, is that this unit "augments" those technologies with Atmos "upmixing" and DTS Neural:X "upmixing" -- this allows 3D sound to be generated from sources that don't support it. These technologies allow you to enjoy Atmos and DTS:X effects with your current library (even if that content is older). What really sets this model apart and makes it heavily relevant and a really great buy is its support for IMAX Enhanced, some receivers have this, and some don't – this makes it a model to be reckoned with, and sets it apart. No one should have any problem supporting any of the latest home theater content with this surround sound receiver. It offers 7.2 channel audio so it absolutely has what are called "height" speakers (in surround sound parlance) available for use. It also features Dolby Vision, BT.2020, and HDCP 2.2. This receiver is highly recommended since it features all the latest home theater technologies, leaving nothing out at an extremely good price point. This receiver is definitely worth a look.






























Denon AVR-X3600H:
This model takes all the features of our last receiver and takes it straight to the very next level by adding one extra important element. Before we get into specifically what that is, we can absolutely say that cutting-edge technologies like Dolby Atmos (including Dolby Atmos Height Virtualization), DTS:X (including DTS Virtual:X), and IMAX Enhanced are all absolutely included and built-in to this home theater unit. It's also good to point out that the last one on that list (IMAX Enhanced) is important for having a home theater receiver that can absolutely deliver all the latest content without any limitations – receivers without that included simply don't necessarily measure up as well. In any case, this unit delivers the latest in 3D sound, it's very clear, and has everything it needs to do it. So what makes it better than the last model in the review? Simple – this model supports 9.2 channel surround sound. The fact that this receiver allows for more speakers specifically allows a user to have two different sets of "height" speakers in their home theater configuration to take full advantage of 3D sound. That's the advantage of having 9.2 channel audio. With the "upscaling" technology of this surround sound model, there's no content this receiver can't handle for a true home theater experience. There's no question that in terms of both features, and getting everything out of your home theater that you possibly can, this unit ranks very highly.








Onkyo TX-NR797:
This receiver absolutely made our lineup of the best and most feature packed "high-end" home theater receivers. It was a must that this list include surround sound systems that include everything one could want in a home entertainment setup. This one, from Onkyo, offers all the features of the previous two (like Atmos and DTS:X, and most importantly IMAX Enhanced), but at a slightly lower price, and that's what makes it worthy of consideration and worth a look for anyone on the market for home theater equipment. The slightly lower price of this surround sound receiver puts it ahead of the other units because it offers so much, just like they do. If one wants all the latest technologies with 9.2 channel surround sound to deliver them – consider this home theater unit.


































Yamaha RX-A780:
This surround sound receiver features 4K Ultra HD, Dolby Vision, and BT.2020. Of course it also offers Dolby Atmos and DTS:X, and while this receiver does not in fact feature 9.2 channel audio the way some units on this list do, it's 7.2 channels makes sure this receiver has enough power to enjoy all the 3D sound that all its features offer. One downside of this unit, is it in fact does not feature IMAX Enhanced, a feature that any high-end receiver needs going forward to be its most relevant for all content and deliver the best home theater experience. If a surround sound receiver does not include that piece of "tech" it may be at a disadvantage compared to other home theater receivers in the long term as more and more content is released under the banner of IMAX Enhanced. Nevertheless, there's a reason this model made our list, because it's very much feature-packed, clearly still a "high-end" model, and at a good price – it is certainly worth a look.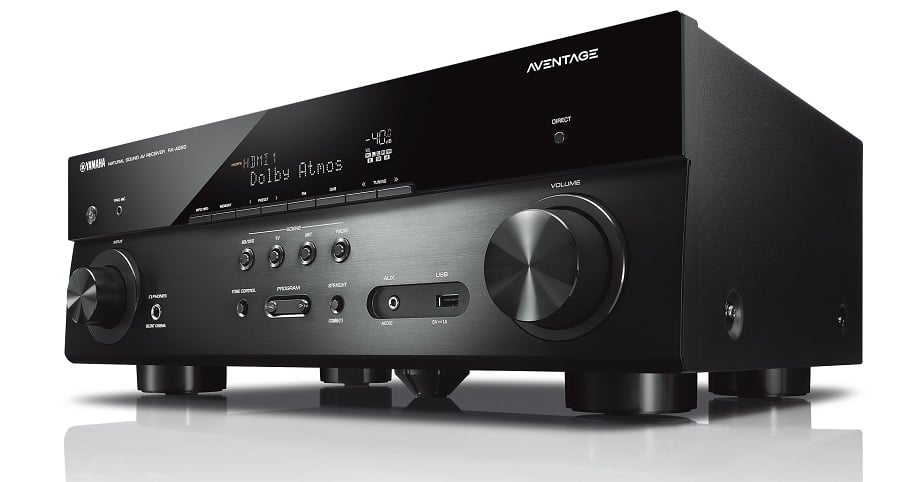 Marantz NR1710:
This surround sound receiver is "feature-packed" and "feature-rich," but also different in one aspect that totally sets it apart from every other product on this list, and that aspect is completely unique to Marantz – it's size and shape. This unit is considered a "slim" receiver, and one can see that immediately by looking at the image of it below; it's far smaller than other home theater receivers by far and without question, and by design. It's impressive that the folks over at Marantz managed to pack everything into such a small unit, but they included almost everything this product needs to be extremely effective. This receiver delivers 7.2 channels of audio, which is not as impressive as 9.2 channels, but that's still everything it needs to pack a punch. This receiver, in terms of the technology it delivers, has almost everything most of the other units on our list do (Dolby Atmos, Dolby Atmos Height Virtualization, DTS:X, DTS Neural:X), however it does in fact lack IMAX Enhanced. Still, this high-end option may be the best one for someone looking specifically for a home theater receiver who has less space for their surround sound devices and definitely needs equipment that is physically smaller than normal – this receiver absolutely meets that challenge while still being "high-end." Take one look at the picture below and it's easy to see why.

























































Sony STR-DN1080:
There are only a few companies in the world that make home theater receivers. For someone new to home theater, they may raise an eyebrow at that. Someone who is on the market for surround sound equipment for the first time may be surprised that there are only a few companies that make home theater receivers – Pioneer, Denon, Onkyo, Yamaha, Marantz, those are the companies that make them. Plus one more company not included in the previous list – Sony. We absolutely wanted to make sure that there was an entry into the market from Sony that could be considered a "high end" option included on this list. Our entry from Sony – is the STR-DN1080. First off, one thing that it's important to point out is that as the Sony home theater receivers were analyzed, at the time of this writing, it was found that they appear to have no home theater products that feature IMAX enhanced, and that's somewhat of a disappointment. This doesn't mean Sony makes bad receivers, it just puts all Sony surround sound products at a disadvantage compared to the other manufacturers. Still, this receiver, the Sony STR-DN1080, is "feature rich" in terms of its Dolby Atmos and DTS:X, and its 7.2 channel audio. So it's possible this may be an option that meets the needs of your next home theater project.






































Pioneer VSX-LX303:
This receiver wins a very particular award. As far as we're concerned, this is the best "value" receiver when it comes to a product that specifically delivers 9.2 surround sound – a unit such as that can offer two sets of "height" speakers to get the most out of Dolby Atmos and DTS:X, and 3D sound in general. This receiver includes both of the previous formats. Also like many of the other receivers on our list, this offering also includes Atmos Surround Upmixing and DTS Neural:X Upmixing. It's absolutely the case that 9.2 channel audio offers more speakers than other surround sound receivers that do not feature it, so it can deliver the very best in 3D sound for any home theater unit. Again, that sets this unit apart is that it is the best "value" option for a 9.2 channel receiver. It may sound strange to some readers to talk about a "bargain" option for high-end surround sound products – but there's no rule any high end surround sound receivers cannot also be offered at a great price.




































So there you have it, a list of our best picks for best "high-end" home theater surround sound receivers. Some receivers on this list are better than others, some offer slightly more options that may make them a more relevant buy in the long term, some deliver superior speaker setups like 9.2 channel surround sound that let users have better access to their superior quality, and some are just units that offer tons of features at very, very competitive prices for their "weight class." All of these receivers on our list have something or another that make them a possible excellent buy, but it depends on the person, the situation, and the exact pricepoint an individual is looking for in their next home theater project. So while all these units are great without question, when selecting one for a purchase, consider each one carefully, and find the one that's absolutely the best choice for you. Happy home theater shopping.